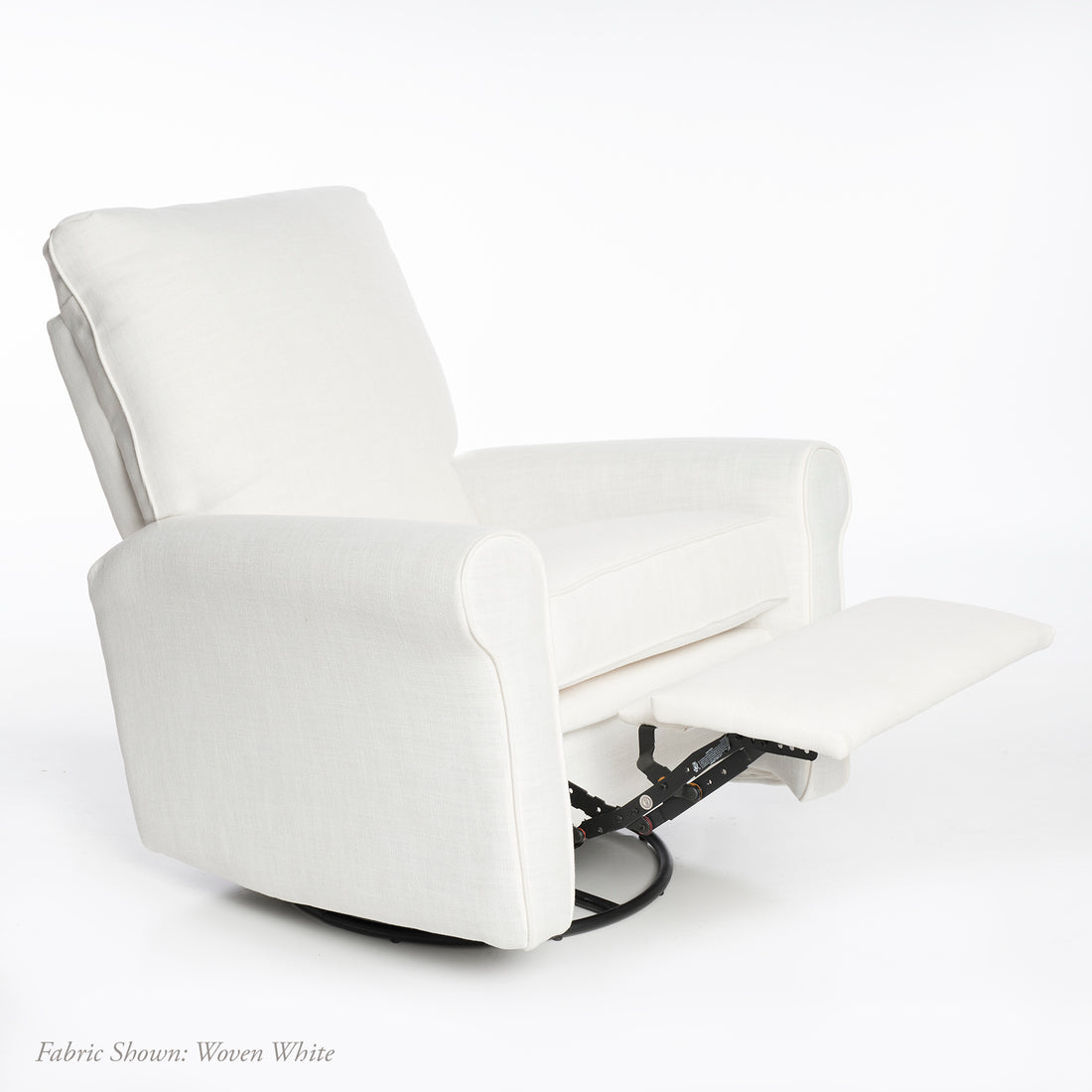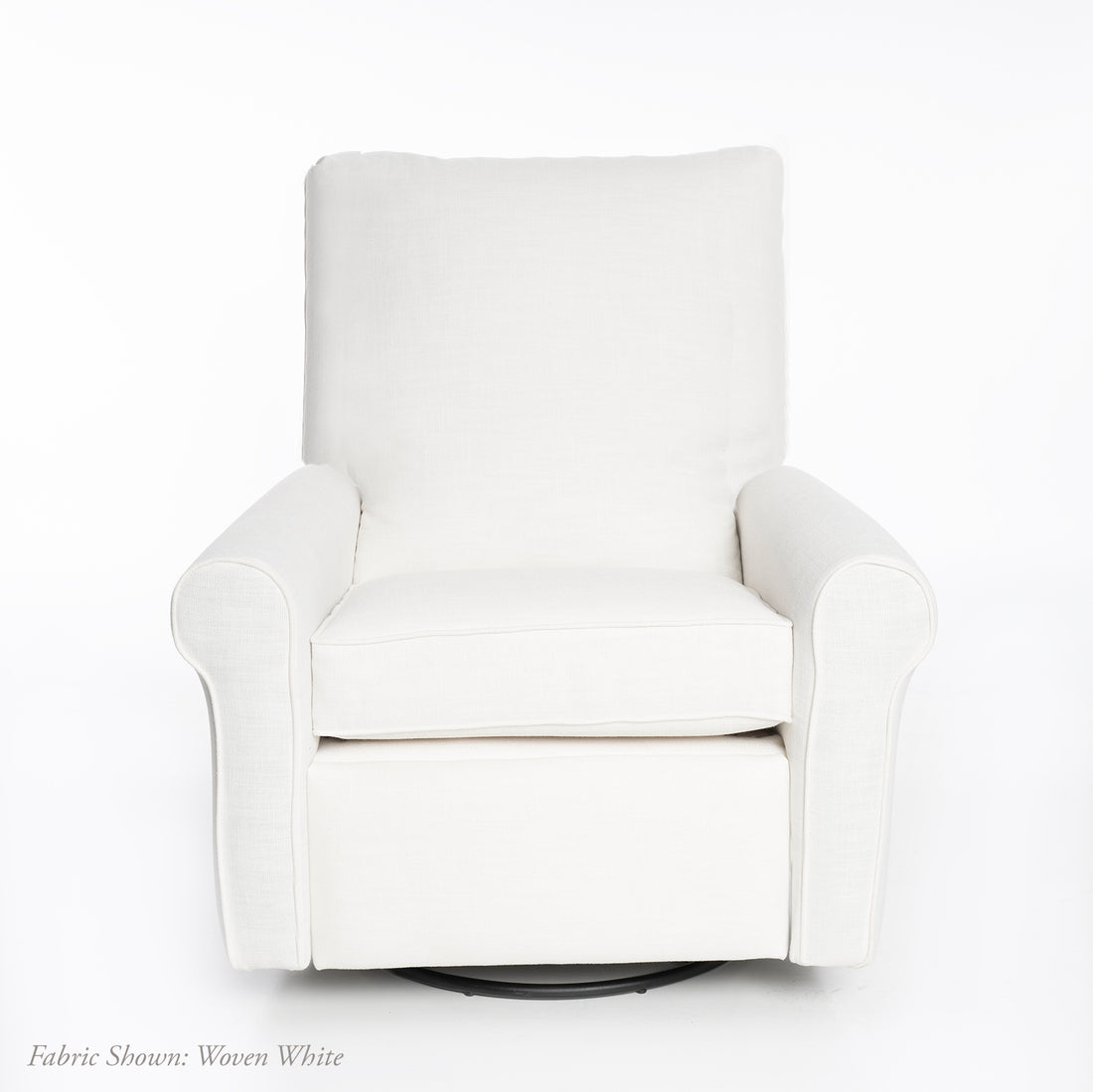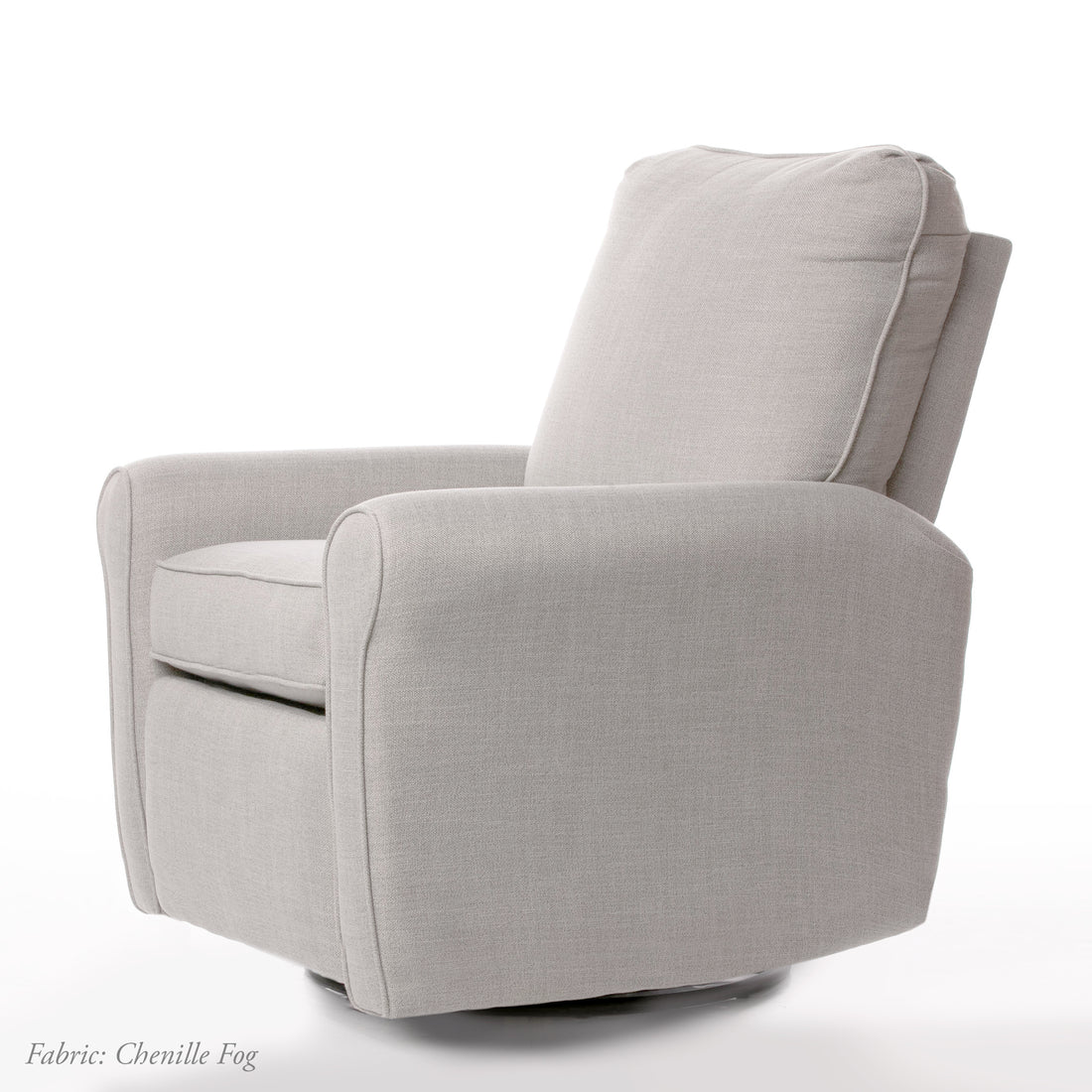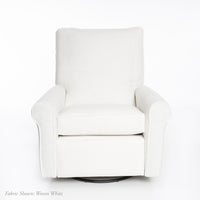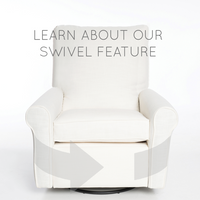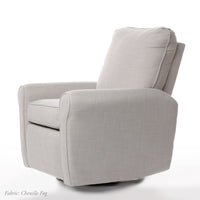 ORLY GLIDING SWIVEL NURSERY RECLINER
MADE IN THE USA BY SKILLED CRAFTSMEN
Our exclusive Orly gliding swivel Nursery Recliner does everything: it reclines, plus it has a full 360º swivel motion and parallel rocking motion that gently glides, so you easily turn toward anything you might need to reach.
The Orly features a hidden recliner lever on the inside of the arm which is easier to reach and has no bulky handle on the outside of the chair. 
The Orly is our biggest recliner with a 42" extra tall back and a wider arm, both features add sublime comfort and exceptional head support while keeping a subtle style. It will be enjoyed in any room! 
Available in a wide variety of fabrics and colors. Swatches available for purchase below.
Approximate Dimensions: 36w x 35d x 42h
EXTENSIVE FABRIC OPTIONS
We all like options. That's why we have a wide variety of fabric textures and colors. 
THE PERFECT FIT
We've worked hard to make sure you have the best fit. The high back and perfect arm height means you can completely relax while feeling supported.
Approximate Dimensions: 36w x 35d x 42h
SHIPPING TIMEFRAME
Although we are still struggling with supply chain demands, we are happy to announce that we have reduced our shipping timelines to 6-10 weeks.
If you need your chair sooner, check out our In-Stock Nursery Gliders, Recliners, & Ottomans.
OUR FAVORITE FEATURES
OILO'S MOTORIZED RECLINE ADD-ON FEATURE
Quietly and effortlessly recline your recliner with the push of a button. This is our favorite feature here at Oilo. Especially when you want to find your perfect recline position without waking your sleeping baby. Plus our motorized recline feature has a USB port that will charge most current phones.
WOOD BASE ADD-ON FEATURE
We love the look of our wood bases. It adds the perfect touch to our chairs so you can move this chair from your nursery, to master bedroom, or living room for a lifetime of use.
OUR SWIVEL FEATURE
Our chairs have a swivel feature so you can move out of the sun or grab items without moving your whole body and waking your sleeping baby.
OUR BEST STAIN RESISTANT FABRIC
Our High Performance fabrics are one of our favorite fabric choices. They are water resistant so liquid will pool on the top giving you time to hurry and soak up the spill before it soaks into the fibers.
WHAT ABOUT CUSHIONS?
We work really hard to make sure your cushions are made from the best possible material and don't slide everywhere. Our Orly cushions are filled with a non-absorbent, mildew-resistant polyester fiber that is lofty, lightweight, and soft. Thus giving you true comfort you can sink into along with peace of mind.
MADE IN THE USA
Our frames are built by local craftsmen, and then upholstered by hand. All right here in the USA.
GLIDER FABRIC SWATCHES
____
We want you to love your chair which is why we highly recommend ordering fabric swatches, as digital devices and multiple light sources in photographs can alter color and perception of texture. You can order your swatches here and your first 5 swatches ship free!
PAY NOW OR LATER, IT'S UP TO YOU.
We're excited to let you know that we have teamed with Shop Pay to give you the option to buy now and pay later. There are no late or hidden fees, and you'll never pay more than you agreed to up front.
read more
USA CURBSIDE DELIVERY ($179): 
Service provides delivery of your item(s) to the curb at the end of your driveway. This service does not include set-up or assembly or items or removal of packing. Estimated transit time is 7-10 business days.
CANADA CURBSIDE DELIVERY ($199):
Service provides delivery of your item(s) to the curb at the end of your driveway. This service does not include set-up or assembly or items or removal of packing. 
Oilo is not responsible for any custom or duty fees. Duties and additional fees are paid to a third party broker and range from $250-$500 CDA.
SHIPPING & PRODUCTION LEAD TIMES
QUICK SHIP NURSERY GLIDERS, RECLINERS & OTTOMANS
QUESTIONS
Still have questions? You can reach us at 888.948.OILO (6456) or service@oilostudio.com. We are happy to answer any questions you may have. Please note, we are avaialble Monday through Friday from 8 am to 5 pm MST. If you contact us during non-business hours or during a national holiday, we will get back with you the next business day.